If you're on Twitter, you're going to want to follow @MissPrestin. She's a 10, but that's only the beginning! As her twitter bio states:
Voted #1 in Canada 2013 | Registered Nurse | International published cover model | fitness&health expert | McMaster University BA
Impressive resume. Voted #1 in Canada 2013? I don't even know what the contest is but as a Canadian looking at her Instagram pictures, she has my vote. So if you're as impressed as we are, do yourself a favour and like her page on Facebook. This way you can make sure that your every waking moment is filled with her incredible body.
1 Comment
MUST-SEE STUFF AROUND THE WEB ▼

This may just be my #1 favorite yoga pants color. It shows the curves so good in pictures. » Continue reading "9 Pics: White yoga pants time"
13 Comments



A week ago @OpieRadio filmed a video of a crazy camel-toe that was aired live on the news. That clip has since been removed from Youtube and we'd like to share this one with you now in case that happens again!
Opie writes:
This woman thought it was totally normal to practice this yoga move in the middle of Central Park, NYC in front of families.
OpieRadio.com
1 Comment

We've gotten pics of this girl before, but only now can we confirm her authentic Instagram link. It's @jellydevote, and luckily for you, she takes a shitload of pics. These 29 selfies display her ample boobular region, and her booty which shows signs of lots of squats. » Continue reading "29 pics of @jellydevote in yoga pants"
13 Comments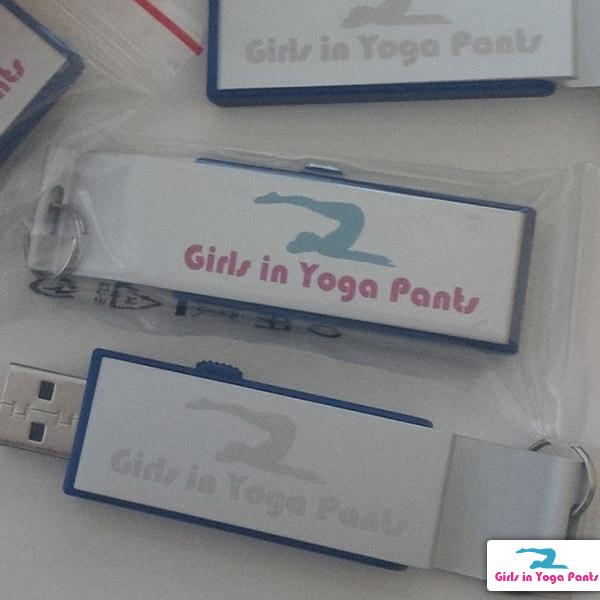 So we got drunk and decided to give stuff away again. We've got 3 (three) of these lovely GirlsInYogaPants.com USB drive bottle opener keychains (as pictured above) to send out for free. That's right, a USB memory stick and a bottle opener all in one. With 4 GB of memory, it has enough space to store your favorite GIYP pics and a Blu-Ray rip of Baseketball, all while providing the ability to open a beer at any time. Follow the instructions below to enter. 3 winners will be picked at random. Voting period closes at 11:59pm, Sunday, May 4, 2014.
How to enter:
Voting is closed! Thank you to all entrants. Winners will be notified shortly.
1 Comment